Cream City. Brew City. Whatever you call Milwaukee, its rich brewing history is prominent in the grand brewing buildings of the past and the craft breweries of the present. Miller Valley continues to boom with more Molson Coors jobs coming to Milwaukee, and new craft breweries, brewpubs and taprooms continue to pop up in every neighborhood in the city.
The Milwaukee Business Journal's new Beer Biz MKE blog will look at every corner of Milwaukee's beer industry from distribution and canning to production and beer events. Follow along for updates on breweries coming and going and the biggest trends in craft beer.


New winter beer event kicks off in Milwaukee
Milwaukee's local craft brewery organization, Drink Brew City, celebrates its first winter beer event, Winter Whales, Saturday, Jan. 11 at Best Place at 917 W. Juneau Ave. Nineteen local craft breweries will attend the ticketed event. Attendees will have the opportunity to meet with brewery owners and sample some special-released beers including Lakefront Brewery's 2017 Black Friday Vintage Reserve XXX, MobCraft Beer's 2018 Existence Belgian-style sour ale and Raised Grain Brewing Co.'s 2018 Anniversary Stout.
Drink Brew City president Elise Strupp said she expected that the two sessions, which run from noon to 4 p.m. and 5 p.m. to 9 p.m., will sell out. Currently both sessions' VIP packages as well as the first session's general admissions are sold out. There are still general admission tickets available for the second session.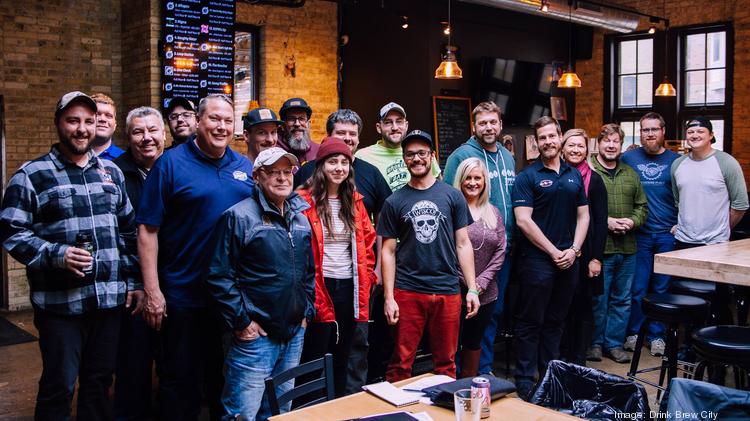 Enlarge
A little over 20 breweries make up the Drink Brew City organization. (
DRINK BREW CITY)
Breweries have high expectations for 2020
With a little over a year of brewing under his belt, Stock House Brewing owner Mark Mahoney said he expects a successful production year in 2020. Stock House Brewing at 7208 W. North Ave. opened in 2018 with a 1,500-square-foot facility and two-barrel system. In its first full year of operation, the Wauwatosa brewery produced 150 barrels of beer. Mahoney expects that number to double to 300 barrels in 2020.
"That to me is huge. You take a look at other folks who are fighting for a tap line somewhere — they're fighting to get shelf space in the store. I'm not fighting that fight. I'm just doing it here," Mahoney said of his neighborhood-based brewery.
Enlightened Brewing Co., which started in a 500-square-foot facility in 2013, opened its 14,000-square-foot facility at 2020 S. Allis St. in May 2019. In 2019, the brewery produced about 900 barrels between its three-and-half barrel system at the Lincoln Warehouse and its 10-barrel brewhouse on Allis Street. After signing with General Beverage in August 2019 and getting into a production rhythm, co-owner and founder Tommy Vandervort expects to produce 1,800 barrels in 2020.
One of the newest breweries in the local craft beer market, Sahale Ale Works, opened at 1505 Wisconsin Ave. in Grafton on July 20, 2020. The brewery filled up its 140-person mug club in just a month. At its 2,700-square-foot facility with a three-barrel brewing system, the brewery produced about 100 barrels of beer in 2019. Owner Matthew Hofmann, who has over a decade of professional brewing experience, expects that number to double to at least 200 barrels in 2020.
"What we've done so far is certainly sustainable. My goal here is to be a good community partner and work with people," Hofmann said. "I'm not trying to get rich, just make a paycheck and do something I'm passionate about."|


What's the newest beer trend in 2020?
In 2019, craft beer drinkers gravitated towards super-fruited, sugary beer drinks. Stouts made with pastry and candy flavors or super-fruited sours were popular. The Great American Beer Festival saw a plethora of entries in the hazy IPA category. Three local brewery owners shared what beer trends they are watching for this year.
Jake Schinker (co-owner of Eagle Park Brewing Co.): "The whole New England IPA craze has been blowing up like crazy. Everyone is trying to make one. It's been getting to the point that people who are new to craft beer, that's what they expect an IPA is. I'm looking forward to the reeducation of West Coast IPA. IPAs can be bitter. Traditional styles, I think they're going to see their comeback and people who take the art of what we do seriously. When you get to those more traditional styles, it is really an art."
Matthew Hofmann (owner and brewmaster of Sahale Ale Works): "I don't think any trend is going to last. That's why it's a trend. I think things will always come back to center in a way. We're still seeing a lot of our sweeter, sugary beers are fairly popular. We're seeing people ask for them back or variants of those. We also have a good mix of standard straightforward styles."
Nick Reistad (co-owner of Raised Grain Brewing Co.): "Everybody says light beers, light craft beers are going to be a thing. I don't know how quickly that's going to make it to Wisconsin. We have some lighter options, but we have to balance with how that fits into our portfolio of boldly brewed beers. I don't know how quickly that fad or that trend is going to make it to Wisconsin when there are other more exciting beers to drink. Sours, I think will always have a place but I don't think they're going to be the next IPA."
Breweries opening and expanding in 2020