Liqueur from Sherman Park business headed to Kroger for holidays
Tuesday, October 2, 2018 (0 Comments)
Posted by: Sari Lesk, Milwaukee Business Journal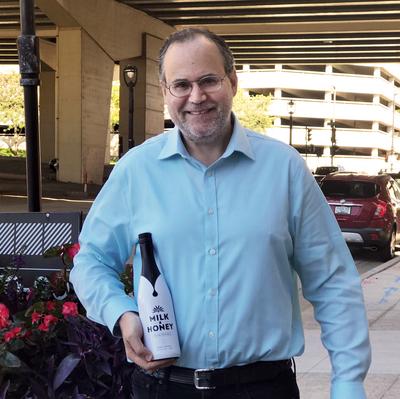 Justin Lubin was studying ancient manuscripts in Israel when he made a discovery.
The nation is referred to as a "land flowing with milk and honey," which draws from a biblical description. And that honey, Lubin learned, flowed from dates. He decided to try mixing date honey with milk to see how it would taste.
"I was like, 'Oh, that's what God's talking about,'" said Lubin, founder of M&H Spirits. "This is delicious."
The beverage became a staple in his household, as well as the inspiration for a cream liqueur he launched after returning home to Sherman Park in 2014. The product, called Milk & Honey, debuted in the summer of 2017 and has since proved its demand enough to earn a spot on grocery store shelves around Wisconsin.
A self-described serial entrepreneur, Lubin said he began iterating after he came home to Milwaukee to decide what would be his next business move. He remembered the concoction he so enjoyed in Israel and thought about how it might connect with his family's history in the spirits business.
Building on the momentum of cream liqueurs like RumChata, Lubin said he developed his own beverage made out of natural date honey. Then, Lubin said, he grew his brand the old-fashioned way.
Connections in the industry taught him that his best shot at gaining real estate on store shelves would be to convince consumers to ask for his product. That's where Lubin said he has focused his energy.
"With the retailers, it's so old school in liquor, you've got to prove your stuff," he said.
Lubin said he started out with local, independent stores, and eventually worked his way into chains like Sendik's Food Market, Woodman's Market and Festival Foods. His company has sold more than 1,500 cases in Wisconsin since entering the market.
This holiday season, he said, Milk & Honey will appear for a run in Kroger stores around the state, which include Pick 'n Save, Metro Market and Copps. Lubin said details about that arrangement remained in the works as of the end of September. A spokesman for Roundy's Supermarkets, a subsidiary of Kroger, did not immediately return requests for comment.
Lubin said as he moves through his strategic plan for Milk & Honey, he aims to grow his share of the cream liqueur market.
"Our goal is to become the cream liqueur of the next generation," he said.