Wisconsin floods SXSW with 3,000 pounds of cheese, and it's a hit
Friday, March 15, 2019 (0 Comments)
Posted by: Mike Cronin, Austin Business Journal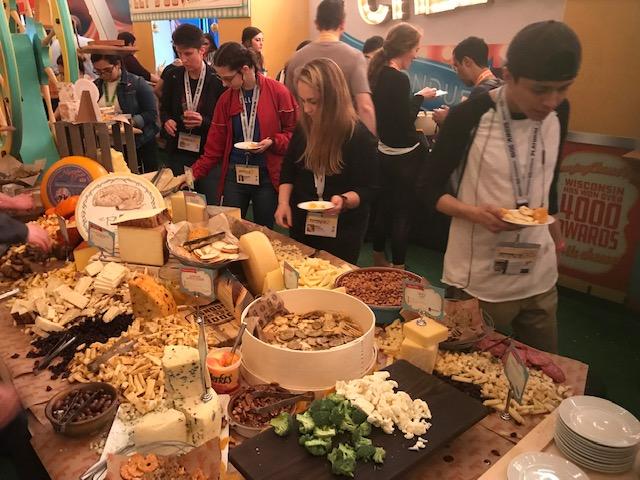 People typically don't walk out of South by Southwest events, arms in the air, yelling, "That was ecstatic!"
Then again, panel discussions typically don't have cheese.
Jane Sorensen had spent about half an hour sampling Wisconsin cheese before making her dramatic exit from a third-floor room headlined, "Cheeselandia," at the JW Marriott Austin hotel in Austin, Texas.
The Montreal entrepreneur skipped a 3:30 p.m. session on Wednesday she'd been eager to go to and said she might have to return. The 25 types of cheese Sorensen said she sampled apparently hadn't been enough.
Lizzie Duffey, a spokeswoman for the Dairy Farmers of Wisconsin and Wisconsin Cheese, said she and her colleagues wanted "word of mouth" to spread through those attending SXSW.
Duffey's dream: "Maybe someone says, 'I went to this cool AI panel,' and someone else says, 'yeah, but did you hear about the Wisconsin Cheese?'"
It seems many people might have had that exact conversation. A 30-minute line snaked from Cheeselandia down a corridor.
Austin-native Daniel Taylor was among those who said the time queueing up was well worth it. He and his wife had been waiting to check it out since last week.
"I like cheese," said Taylor, who works at local software company LeanDNA Inc.
For those who wanted to know more, Duffey was ready with these stats:
• Wisconsin makes nearly half the nation's specialty cheese
• Wisconsin cheese wins more awards than any other state or country
• She and her colleagues brought 3,000 pounds of cheese for the event — all from Wisconsin
• Only 10 percent of Wisconsin cheese is sold in-state. The other 90 percent, everywhere else.
The madness extends beyond SXSW, so don't fret if you don't have a badge: Wisconsin Cheese will be at Whole Foods Market flagship store at Lamar Boulevard and Sixth Street through March 19.