Central Standard releases bourbon in customizable bottle in time for Father's Day
Tuesday, June 11, 2019 (0 Comments)
Posted by: Celia Young, Milwaukee Business Journal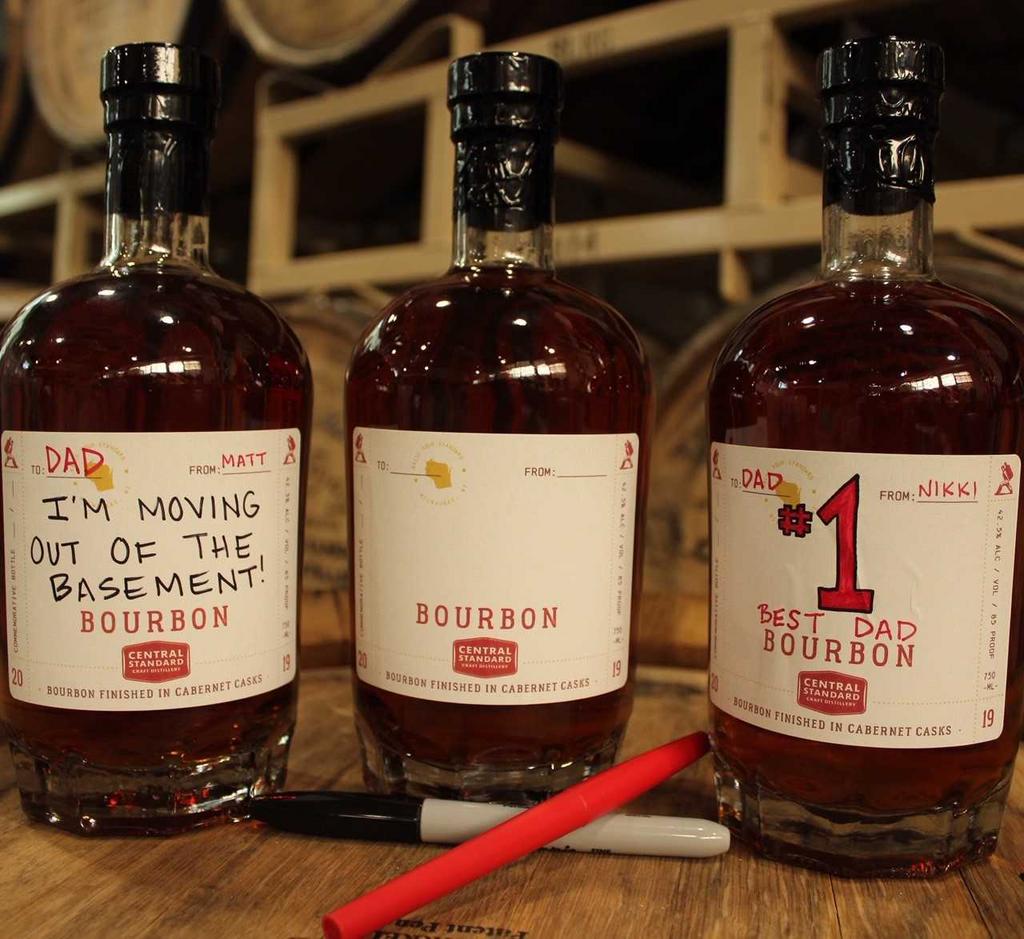 If you're feeling the need to apologize for the mistakes of your youth or just want to show dad some love this Father's Day, Central Standard Craft Distillery has a new, customizable bottle of bourbon released just in time for the holiday.
The Milwaukee company is launching a bourbon this week that allows customers to write a message on the bottle label. And while parenting can be hard, labeling a bottle of bourbon is easy.
"Henry, my three-and-a-half-year-old, would probably title it 'I don't want to pick up my toys' bourbon," said co-founder of Central Standard Evan Hughes.
Hughes and co-founder Pat McQuillan, both fathers to two children, thought the idea for a customizable bourbon would be perfect for a Father's Day gift. McQuillan felt that his own father would have appreciated a bottle, rather than the usual gift of a tie or a 'Best Dad' T-shirt.
"Instead of trying to find the perfect gift for the dad who has everything, you can create it yourself," said McQuillan. "When you're looking at Father's Day bourbon is really the perfect fit," said Hughes.
Product customization is a growing trend, said McQuillan, who wanted customers to be able to enjoy personalized bottles in a unique way.
The 60 fill-in-the-blank bottles on sale at Central Standard's tasting room were a four-month effort by a team at the company. The bottles -- priced at $30 per 750 ml bottle -- contain Central Standard's Cabernet Finished Bourbon. The drink has a reddish color because it is aged in barrels that once held California red wine.
The bourbon is available until it sells out, said Hughes, and only in the Union room.
"It can be anything from 'I'm sorry I crashed the car' to 'World's #1 dad or 'I'm finally moving out of the basement,'" he said.
"It can be funny or it can be from the heart," echoed McQuillan.
But while the bottles are released for Father's Day, McQuillan said the gift can really be for any occasion.
"We're really proud of the product," Hughes said. "It's kind of the perfect gift, you can get creative with it."
McQuillan and Hughes started Central Standard Craft Distillery in 2014, said McQuillan, after two years prior realizing they could make a business out of something they really enjoyed: trying craft bourbon. And though both their children are too young to purchase them a bottle for the holiday, the two hope that visitors to Central Standard will stop in, try a cocktail and make their own custom gift for dad.