Kings & Convicts brewery aims to open in Pleasant Prairie in spring
Tuesday, June 25, 2019 (0 Comments)
Posted by: Sean Ryan, Milwaukee Business Journal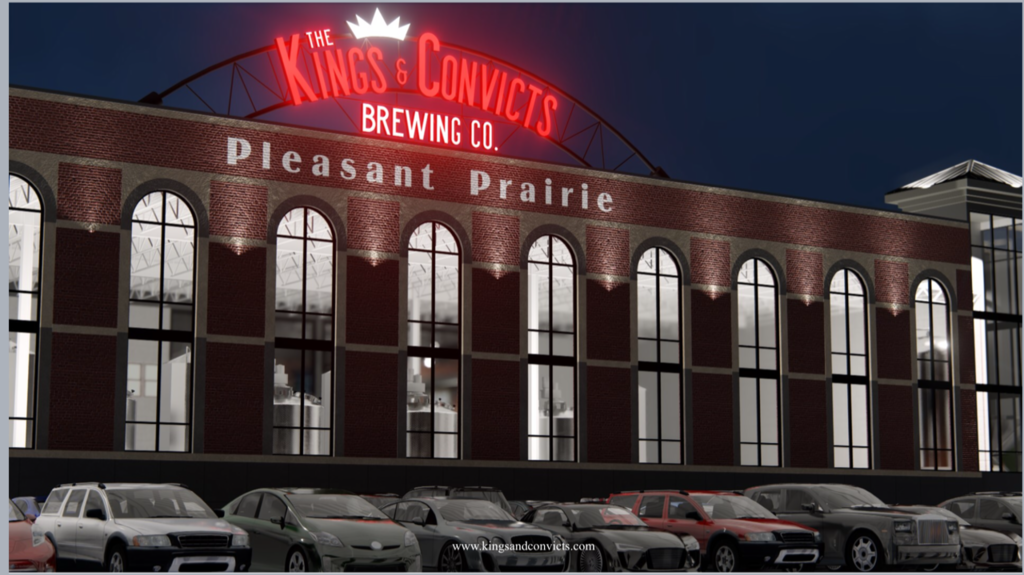 Kings & Convicts Brewing Co. is on course to open a new brewery, tap room and event hall in Pleasant Prairie in spring 2020 to meet the growing demand for its beer, including in Wisconsin.
Currently, the Highwood, Illinois, brewery can make about 1,200 barrels of beer a year, which is not enough to keep up with current demand, said Brendan Waters. Waters, who is of Australian descent, goes under the title convict, a callback to Britain's history of shipping its prisoners to the country in the 1700s and 1800s. His partner at the company and master brewer Chris Bradley is of English descent, and is the king.
Their search for land to build a new brewery led to a partnership with Branko Tupanjac, a real estate investor who owns more than 7 acres east of I-94 at Highway 50. They partnered up to build an about 50,000-square-foot brewery, and Tupanjac is separately working on plans for a neighboring hotel that would be built later.
"It's going to be extremely visible from the interstate," Waters said. "We want it to tell stories about the beer, and we want it to tell the history."
Approvals Monday from Pleasant Prairie's Plan Commission clears the way for Kings & Convicts to begin site preparation work. Waters said the brewery's new equipment is being manufactured now, so the new building must be enclosed in time to house it.
"It's turning up on our doorstep in October or November, so we have to have a home for it," he said.
The brewery is to open in spring, and will have the capacity to eventually brew up to 75,000 barrels a year. A taproom will offer smoked brisket, pork, chicken and other food, and an event hall will have room to seat up to 250 people.
"We have had so much interest from businesses already because we have that event space," Waters said. "Companies are looking for places to get out of their business and have a meeting in a fun space."
Waters said the Highwood brewery would remain open.
Kings & Convicts beer is currently sold in Kenosha County and in Walworth and Racine counties. It will debut this year at the The Bristol Renaissance Faire in Kenosha County, Waters said.
"We've got interest from Milwaukee County, but we don't have enough beer," he said.