Owner's Valentine Coffee on caffeine kick: Robb Kashevarof
Thursday, July 20, 2017 (0 Comments)


Business Journal


Melanie Lawder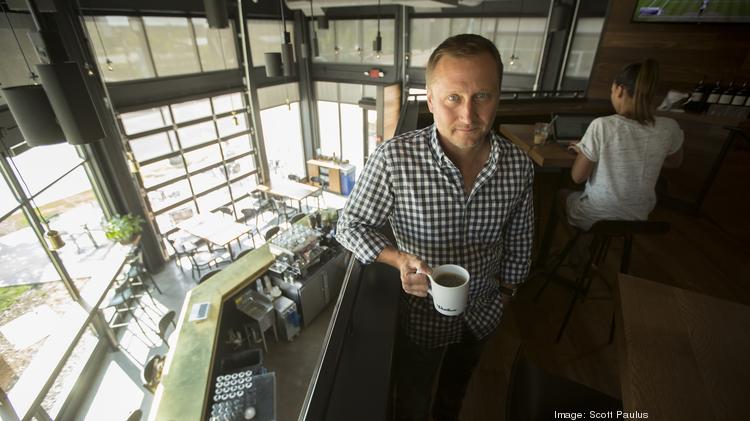 Robb Kashevarof started what would become Valentine Coffee Co. with the proceeds from a tax refund and a charge on a credit card.
That was in 2009, when Kashevarof decided to invest in a coffee roaster after tinkering with broiling small batches in the garage of his Delafield home and conducting extensive research on crafting a perfect cup of joe. Now, nearly a decade later, the Milwaukee coffee roaster is flourishing in the region's competitive coffee scene.
"We're not chasing fads in coffee or coffee roasting," Kashevarof said. "We're trying to find the cup that doesn't hurt the environment, doesn't hurt farmers and the workers, and doesn't hurt your palate either."
This year, the firm, which employs about 50 people, opened a second location in Oak Creek and brought its brand to the kiosks at General Mitchell International Airport, as well as stands at Summerfest. Revenue is up 40 percent over last year, he said, with more growth expected, including plans for a new facility dedicated to roasting and manufacturing.
Kashevarof's passion for java first started percolating when he was in his mid-20s. A member of Marquette University's men's soccer team, he moved to Poland to play professional soccer — a career move that ultimately didn't work out.
"I wasn't as good as I thought I was, let's just say that," he reminisced. "But it was a good experience and got me to where I am."
While in Europe during the mid-1990s, he started drinking pour-over coffee — a habit that evolved into sort of a morning ritual Kashevarof savored.
Eventually, he brought that ritual back with him to the United States, where he worked in the service industry, managing various restaurants and later becoming a wine seller. Coffee and wine boast a lot of shared characteristics, and Kashevarof soon developed a hobby of bean roasting, experimenting with techniques to find a balanced cup of java.
"I always thought there was a way to find balance and a sweetness in coffee. I just wanted to find consistency," he said.
In 2009, Kashevarof officially incorporated his coffee business after doing a blind taste-testing with his wife, Virginia. He stacked his home-roasted coffee against a well-established brand and she chose his sample over the latter.
At the beginning, Valentine Coffee Co. — which comes from the Kashevarof family name "Valentine" — operated mostly as a wholesaler, with many customers recognizing the brand thanks to its stand at the Wauwatosa Farmers Market. In 2011, Joe Gilsdorf joined Kashevarof as co-owner and partner, and in 2013 the business opened a roastery and tasting room at 5918 W. Vliet St. in Milwaukee.
Kashevarof remembers the firm's meager beginnings with no wealthy investor and every purchase carefully calculated.
"Anytime we would get a check from a customer, I would stop and run to the bank with it," he recalled.
Those values of financial sensibility and restraint have stayed with Kashevarof. While he's open to the addition of more cafes, he said expanding the brand's locations is a balancing act.
"We're cautious in our expansion because of our dedication to quality, service and product," he said. "So, if we don't think we're going to be able to maintain our top-notch (standard) and the reputation we have, we're not going to make that jump."
Like when it first started, Valentine Coffee Co.'s wholesale business is driving most of the firm's growth. Its products are found at The Bartolotta Restaurants, City Market locations and BelAir Cantina, among others.
Valentine's wholesale segment is developing so rapidly that it will soon expand its roasting operations. Currently running that process from its Vliet Street location, the coffee company is looking for about 10,000 to 20,000 square feet to support expansion.
A specific location of the new facility has yet to be determined, but the move likely will result in an expanded Vliet Street cafe with a full kitchen.
"We're remaining open to all opportunities," Kashevarof said about a new facility. "If it was in the area that presented itself, where a café or tasting room in the front would work really well, that's great."
Among Valentine's clients is Black Shoe Hospitality, the Milwaukee restaurant group that owns Story Hill BKC, Maxie's and Blue's Egg. Black Shoe co-owner Dan Sidner said he decided to switch to Valentine Coffee in 2011 because of the coffee quality as well as the relationship he formed with Kashevarof and Gilsdorf, who are often found having business meetings at Sidner's restaurants.
"They don't just support us, they sort of become part of the culture when they come in," Sidner said, describing Kashevarof as someone who "is a little bit of a force of nature."
"Whatever he's doing, he's fired up about it and good at it," Sidner said. "...He doesn't stop if there's something in the way, he keeps going."
Title: Founder, co-owner

Company: Valentine Coffee Co.

Family: Wife, Virginia, and two daughters, Anya and Kyra

Age: 49

Hometown: Born in Seattle, grew up in Wauwatosa

Residence: Delafield

Toughest career decision you've ever had to make: "Taking the leap to entrepreneurship"

Best career decision you've ever made: "Taking the leap to entrepreneurship"

Number of cups of coffees you drink everyday: "I may have two or three cups of coffee a day, but I probably taste 20 different coffees."

First job: Lining soccer fields

Hobbies: Coaching daughters' soccer teams, golf

What is the last book you read? "For the last 15 years I have been trying to finish 'Infinite Jest' (by David Foster Wallace)"

Favorite place to travel: Hawaii

Favorite movie: "National Lampoon movies from the '80s still crack me up."

What artists do you have on your Spotify playlist? "I do a lot of driving so playlists like Real Jazz, Blues, No Shoes Radio. After a farmers market, there's nothing better than Saturday Afternoon Boogie Bang on 91.7."