Haribo vague on potential expansion talks in Kenosha County
Friday, October 20, 2017 (0 Comments)


Business Journal




Patrick Leary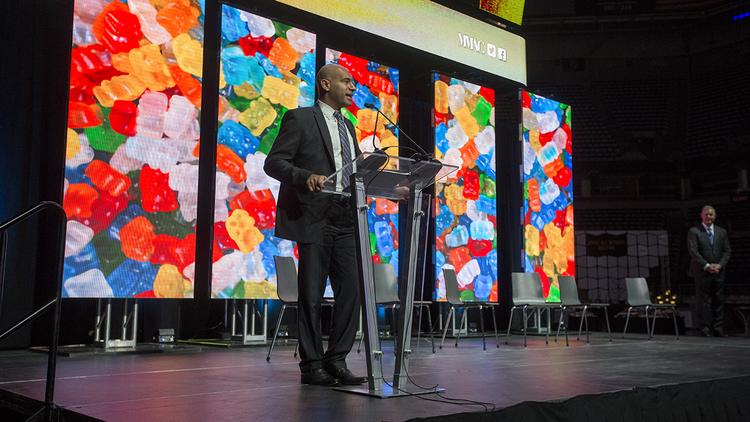 SCOTT PAULUS


Hints at potential expansion to Haribo's current plans for its $242 million Pleasant Prairie facility appear to be just that, hints, for the time being.
At an investor event earlier this month, Wes Saber, executive vice president and chief financial officer of Haribo of America, made reference to a number of possible expansion options for Germany-based Haribo related to its plans for Pleasant Prairie. The facility, which projects to be one of the largest in the confectionery industry, is expected to be completed by 2020.
Saber characterized the $242 million investment as "phase one" and clarified that it was "phase one for us, by the way" and that the project has "four phases." He also mentioned the possibility of adding retail options to support surrounding businesses in Pleasant Prairie and possibly investing in something he referred to as "Haribo Park."
"We're very excited and were going to continue to work with Wisconsin on that (expansion)," Saber said.
Both Haribo and Pleasant Prairie officials were hesitant to provide any specifics about Saber's additional phases, retail and park comments.
Keith Danoff, Haribo of America's vice president of marketing, said the company is in the "early planning stages" of the project and didn't elaborate further on Saber's remarks.
"Once we get further along on this project, we will share more details with the media," Danoff said.
Jean Werbie-Harris, Pleasant Prairie's community development director, and interim Village Administrator Thomas Shircel declined to comment on additional Haribo expansion.
Haribo, based stateside in Rosemont, Ill., will make the proposed 500,000-square-foot facility the first occupant of the Prairie Highlands Corporate Park on the northwest corner of County Highway Q and I-94 in Kenosha County.